With the help of PDFlite.co Image to PDF tool, you can easily and quickly convert a JPEG format image into a PDF file. In addition, you can do various other operations using this platform. Some of these processes include conversion from PDF to image, PDF splitting, PDF merging, and much more. It can also be used to convert an image to Base64. Similarly, you can fill PDF forms and sign documents using this platform. You can access this service directly on your browser by installing the PDFlite.co plugin. You can do all these without paying for any subscription.
JPEG Format Image and PDF Documents
JPEG (Joint Photographic Experts Group) is a type of digital image. In most cases, digital images made from photography are stored using this format. Additionally, it is suitable for compression. The compression level determines the quality of the image. Therefore, the smaller the image, the lower its quality and vice versa. Due to its flexibility, most photographers and typical users prefer to store images using this file format. In some cases, JPEG may appear as JPG. There is no difference between these. The slight difference between JPEG and JPG is character numbers. On the other hand, the PDF file is a type of document that contains several elements. It can contain images, text, tables, graphics, and much more. Therefore, a single PDF file can have information of different formats within it. It can also be composed of several pages. This capacity of a PDF file is the reason why most users and professionals prefer to use this document type to present information. In addition, various types of security measures can be implemented on a PDF document. With the aid of encryption, you can send a PDF file knowing this information is secured. Also, data logging helps record changes made to the file. Therefore, unauthorized changes can quickly be traced.
Converting JPEG Format to PDF
Before you can convert an image (or images) to a PDF file, you will need to visit PDFlite.co. Once you type in the website and click go, you will land on the landing page of the platform. You can select the option to convert an image to PDF in two ways. These two paths are highlighted above. By clicking either of the options, you will be redirected to another page as shown below.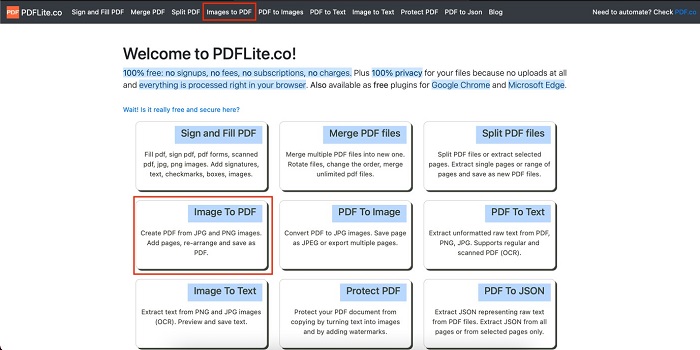 From the image above, you can add as many images as you are able to. All you need to do is click on the "Add File" option. Doing this will give you access to the file folder. However, you will have to add one file at a time. After you add two images, an option to add three images appears. Options will continue to appear as seen below.
From the image above, you can see the uploaded images. To begin the process of creation of the PDF file, you will need to click "Create and Save PDF." When you click this option, the PDF document is automatically created and downloaded.
Check out our useful articles: